Tuesday, June 16, 2009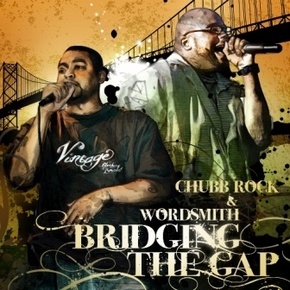 Chubb Rock & Wordsmith - Bridging The Gap
(Godigital/Unruly/Koch Records)
Over the past couple years that Wordsmith has been flooding Baltimore and the internet with tons of solo material, he's been teasing this collaborative album with old school hip hop institution Chubb Rock. And after the last few weeks that have included an appearance on Jimmy Kimmel, the release of a
video
, and a
warm-up mixtape
, the album is finally out today. And it's the second big national release from Unruly Records since they got distribution from E1/Koch (after the K-Swift best-of), which is great to see. The whole feel of the LP is nice, Chubb Rock is such a genial, laid back presence and Wordsmith is a good foil as kind of a more intense, lyrical MC, good beats produced primarily by Strada. One of my favorite parts of the album is the 2-part "Chocolate City," which is kind of a weird conceptual storytelling thing. The album is out everywhere this week, stores and iTunes and Amazon and all that.
Chubb Rock & Wordsmith - "Clay Davis" (mp3)
Fans of
The Wire
will enjoy this one, which features Chubb Rock doing his best Clay Davis impression and going "sheeeeeit" on the hook.
Labels: mixtape/album review, mp3, Unruly Records, Wordsmith