Sunday, April 13, 2008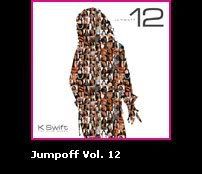 K-Swift The Club Queen - Jumpoff Vol. 12
(Unruly Records)
I'm pretty late on covering this, since
Vol. 13
in this series has been out already, but
12
really jams so I wanted to write something about this one before getting to that later. Like all K-Swift mixes, it's sold at Downtown Locker Room, and also on her new
online store
and the
Unruly Records mp3 store
, all the latest Baltimore club hits, you know the deal. This one has tracks by the usual suspects like Rod Lee, Say Wut, and KW Griff, but also a lot of the lesser known cats coming up that I've interviewed in the past few months like
DJ Pierre
,
Mic Marvelous
, and
DJ Chris J.
I like where club music seems to be going these days, a lot of producers are finally moving past the Lil Jon samples and trying different things but there's no real obvious trend that everyone's following, it's interesting. The only part of this CD that I wasn't really feelin' is the section where K-Swift put 3 different Soulja Boy remixes in a row on tracks 10-12. I mean, it's a nice thematic idea, but that's a long-ass 5 or 6-minute stretch of "Crank That" and it gets pretty annoying.
J Roc - "If It's Beef Remix" (mp3)
This has been one of the coolest-sounding club hits of the past few months, in my opinion, not sure if J Roc did the original too but I like this remix.
Labels: Baltimore club, K-Swift, KW Griff, mixtape/album review, mp3, NSW (Say What), Rod Lee, Unruly Records