Thursday, March 01, 2007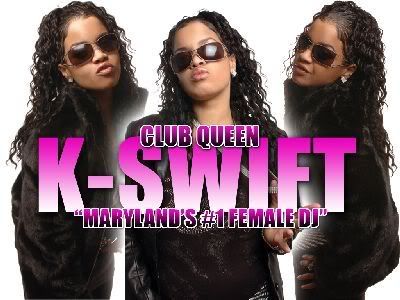 K-Swift - Jumpoff Vol. 9: Holiday Edition
(Unruly Records/Next Level Records)
K-Swift
's latest club music mix came out in December, which you can probably tell from the title, and it's one of my favorites that she's done in a while, I can't remember the last time I put a new club music CD in my car and really jammed with it like I did with this one, usually it's some old disc by DJ Patrick or K.W. Griff that I really rock out to. I don't know if it's just certain tracks on here or just the whole vibe but it's real high energy, good shit. Lot of tracks from that new Rod Lee album, but my favorite stuff on here is by Tigga and KSpin and Mike Marvelous & DJ Twikks, kinda lesser known producers on the club scene that K-Swift's been featuring a lot on her CDs lately. This one's available at the Sound Garden and Downtown Locker Room, and the next one, Vol. 10, is dropping on March 20th.
Blaq Starr - "In The Air" (mp3)
This has been my jam for most of the past year or so. Is he saying "I can feel it in my balls" on that one line, though? Anyway, I posted a flyer yesterday for a show Blaq Starr is DJing this weekend, and his 12" single on Mad Decent Records is out nationally now, got some good tracks on there (but not this one).
Labels: Baltimore club, Blaq Starr, K-Swift, mixtape/album review, mp3, Next Level Records, Rod Lee, Unruly Records