Tuesday, December 02, 2008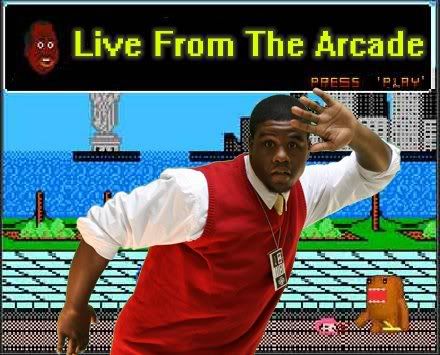 Dappa!!! Dan Midas - Live From The Arcade EP
(Mania Music Group)
I've
written
about Mania Music Group enough times now that you should know the deal, I think these guys are pretty unique and talented and the released a ton of free music on their
official site
in October that I'm still really catching up on and digesting.
Midas
is the guy I've known the longest and heard the most music by out of their roster, so I've kinda watched him grow and diversify. And while he doesn't get to show all of that in a 20-minute EP, there's a pretty impressive amount of variety on here. I always kinda feel like the best is yet to come with him, though, like if he just keeps pushing he's gonna have some kind of creative breakthrough and make some really undeniable shit, but that hasn't happened yet, although with the Mania producers he's really starting to get an interesting, original sound. The collab with Kane Mayfield that appeared on Kane's EP, "Your Fired," is also on here, and the song "Plastic" was recently written about on the blog
No Trivia
.
Dappa!!! Dan Midas f/ Ron G. - "Push Start" (mp3)
This was kinda the advance single that I heard a while before the EP was out, and it's still my favorite song on here, just real high energy and catchy and in keeping with the title and concept of the whole EP.
Labels: Kane, Mania Music Group, Midas, mixtape/album review, mp3, Ron G.
Comments:
I love this album,ep or whatever its fresh and he really took a chance with this there's not a CD out there locally that's in this lane. Like You said AL they have to get better so the real album should be great please don't let us down man I'm rooting for you guys.
D.R.E.
Post a Comment
<< Home