Tuesday, August 12, 2008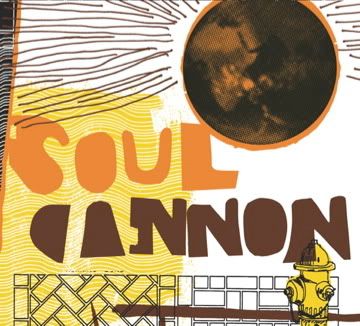 Soul Cannon - Kaboom
(Soul Cannon/Morphius Records)
Every now and then, there's an act that I kind of have to think for a second whether to post about on Gov't Names, because they might technically be a hip hop act in the Baltimore area, but they may kind of have a foot more in the local rock scene, so I almost don't place them in the rap scene in my head, and I realize that this site should be as diverse as possible and that they totally fit into that.
Height
is one example of that kind of act, Soul Cannon is another. In fact, I might've thought Soul Cannon was a rock band until I caught their
show at the Ottobar
a few months ago, and it turned they're basically a rapper, Ezekiel "Eze" Jackson, backed by a 4-piece band. The City Paper's given them a good amount of coverage otherwise in the past year or so, including a
feature
and a
review
, and since I enjoyed their live show I thought I'd pick up the album. It's a pretty interesting sound, a little bit of a funk/jazz thing going on but the band stirs a lot of other elements into the pot and doesn't always stick to the standard template of what a 'hip hop band' usually sounds like, without getting too corny or abstract with it. Eze gets a little too preachy for my taste sometimes, but it's clear he's got a brain and some shit to say, and he lands some pretty nice lines here and there. With so many local MCs getting into performing with live musicians lately, these guys would be a real good example to follow on a good way to do that. Check out
SoulCannon.com
(that's right, a dot com! Remember when musicians had their own websites and not just some MySpace ish?).
Soul Cannon - "Pampers Low" (mp3)
Weird title but this one's one of my favorites.
Labels: mixtape/album review, mp3, Soul Cannon
Comments:
Great group been up on them for awhile btw does anyone know what happened to the female singer they had? al i like your blog its cool because im from bmore and i live in az so i can keep up on things but can but can you post some new blood i like the artist i see but its some people out in the city that's hot that i dont see on here like that ron g guy do you have anymore records of him?
I have Ron G.'s stuff on the Mania Music Group compilation, but I'm not gonna post about that album until it's officially released.
I'm always looking for new blood, I've posted music by at least 5 or 6 artists I'd never posted music by here before since I got back from my hiatus a couple months ago, and I've got a lot more new artists I'm getting ready to write about, it just takes longer sometimes to get to those CDs by people I'm less familiar with and have something to say about them. I'm always open to suggestions, though.
Post a Comment
<< Home