Saturday, January 12, 2008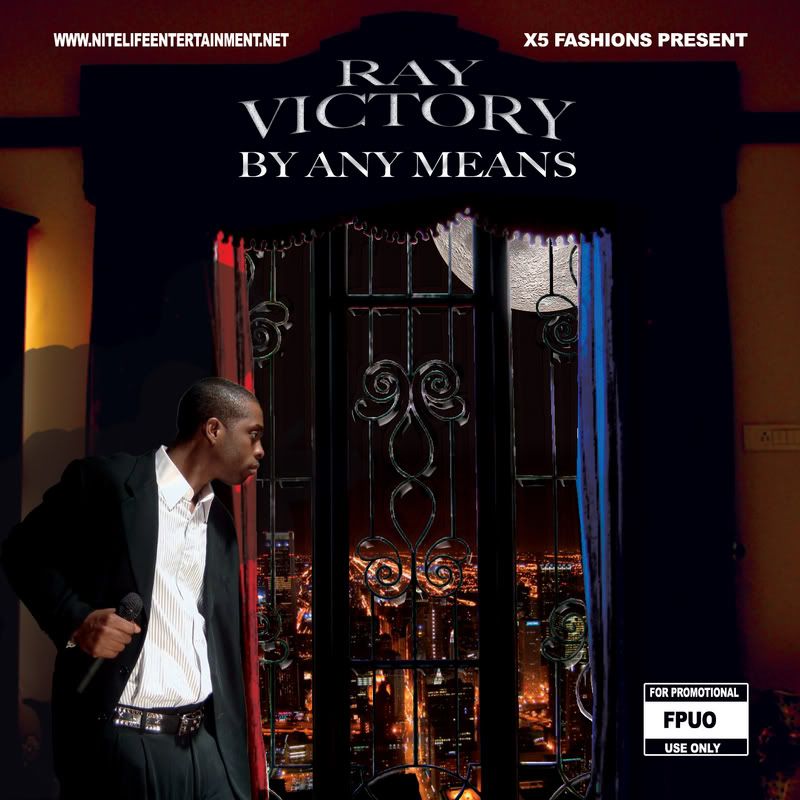 Ray Victory - By Any Means
(Nite Life Entertainment)
I wrote about Ray Vic's previous mixtape
Ready 2 Go
a year or two back and recently got sent his new one, along with a copy of his new single "Everything Ain't Always Good" (which, I should add, is pretty good and I don't understand why it isn't on the mixtape). I like Ray, he's got a unique voice and occasionally has a hot line, but this mixtape gets kinda boring for me for the same reason the last one did, which is that every other song is over an industry beat or a "remix" of some mainstream R&B track by T-Pain or Beyonce or R. Kelly or something. Dude needs to find some talented producers and make some records for real, the original songs on here are by far the highlights, especially the two-part "Momma's Protector." This mixtape features an intro by C Love and guest appearances by Comp, B. Rich (who used to be in a group with Ray), and Caddy Da Don, and is available on
Ray Victory's MySpace page
.
Ray Victory f/ Shadina - "Hey Girl" (mp3)
Shadina is an R&B singer I saw perform at a show at the Latin Palace that I covered on
Noise
last year, I love how this song just samples a straight soul loop without really adding drums or anything, just letting it play for a kinda mellow vibe. Shadina has another collaboration with Ray Victory called "My Baby" on her
MySpace page
.
Labels: B. Rich, C Love, Comp, mixtape/album review, mp3